Plan your work then work your plan.

With school looming around the corner, this is the perfect time to get back-to-school organized. Nothing makes me more excited than digging into a brand new agenda to ring the new school year in right!
I've scoured the internet far and wide to find the best organizers. Whether you want to plan out every hour, or are just looking for a place to jot down your pesky to-do checklist – there is a perfect planner for you.
This slideshow requires JavaScript.
My personal favorite! Their agendas keep you organized while letting all those around you know you're a one-of-a-kind fashionista. With different sizes to choose from, you can lay out your in-depth assignments or just a quick note on what's coming up. From stickers to girl power illustrations, ban.do keeps you motivated with every turn of the page.
This slideshow requires JavaScript.
You may have heard the hype, and I'm here to tell you the hype is well-deserved. While the planner has three different layout options (horizontal, vertical, and hourly), there are endless cover options, multiple coil colors, and even monogramming customization! Her power positive stickers and monthly notes of positivity keep you motivated each and every day.
This slideshow requires JavaScript.
This planner is unlike any other. Mo Seetubtim, founder of The Happiness Planner, aims to help people become happier by embracing positive thinking, mindfulness, gratitude, and self-development (she has a killer TEDx Talk called Finding Happiness from Within – check it out!). The planner consists of four main elements: the happiness roadmap, the planning pages, the daily pages, and the reflection pages. These are all designed to allow you to take the time to become more self-aware in asking questions and reflecting on your day all while getting everything done!
This slideshow requires JavaScript.
Get more done and feel better! This compact agenda comes with three different sections to keep you organized and motivated: monthly, weekly, and daily. The monthly section helps you plan your goals and build better habits. The weekly pages help you learn from the past 7 days and intentionally plan your upcoming week. The daily pages will help you get into a routine and help rewire your brain toward happiness to keep you motivated each and every day.
5. Mead Student Academic Planner
This slideshow requires JavaScript.
Finally, the classic. This simple and sleek planner is handy for even the most hectic of students. It's split up into weeks with academic charts in the back for reference use. These last the full school year instead of lasting a school year and a half (I always feel like I'm wasting pages when switching from an agenda too early). Although the planner is wirebound, the wires are covered with a sturdy cloth to ensure the wire doesn't snag while jostling around in your bag. With two different sizes, it suits any need!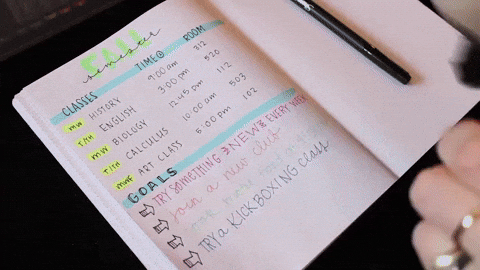 Brooke Stiles is a rising junior at Denison University and a contributor at GlamSalad.com. When she is not in a costume shop or thrift store, she can be found snuggled up with her puppers watching "Gossip Girl" for the thousandth time.