Blessings on blessings on blessings.

Gratitude feels good. It improves your health and happiness and just makes everything a little bit better. Here are some tips to improve your practice of thankfulness:
1. Beware of the "I'll be happy when…" syndrome
As human beings who are genetically programmed to fulfill our basic desires like eating and sleeping, it's only natural to lust after things and people, and assume that we will be so happy once we have this one thing. The danger with delaying happiness is that it makes us miserable in the moment. Being grateful for the gifts inherent in each present moment allows you to enjoy the journey and the destination.
2. Find Three Things to be Grateful for Each Day
No matter how tough life gets, it is surely possible to find three things you're grateful for. It could be that awesome egg-and-cheese you ate this morning, the nap you took three weeks ago, or those skinny jeans that haven't turned into dad jeans. There is always something to be thankful for, and prime times to do this would be right after working out or meditating.
3. Don't Limit Gratitude to the Good Times
Sure, it's super easy to be grateful when everything's going your way – and it's okay to feel stressed and overwhelmed when they're not. But bear in mind that it's tough times that shape you, that help you learn important lessons about who you are and what you can survive. Tough times also give you perspective on appreciating the good times. As the eloquent Rita Ora once sang, "I'm grateful for the storm, [it] made me appreciate the sun."
4. Enjoy Everything, Especially the Little Things
It's that first sip of your cappuccino and the intensity of the fall colors. Once you wake up to the marvelous little sparks of joy all around you, you will increase the amount of gratitude in your life tenfold.
5. Connect with Nature
Try to incorporate some time for connecting with the stillness in nature. It is the easiest way to fill yourself with awe and gratitude. Something about basking in the beauty of the natural world immediately puts things into perspective and allows you to get in touch with that grateful part of yourself.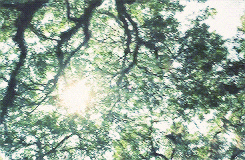 Adelle Goldenberg is the Executive Editor of GlamSalad.com. She is grateful for a lot of things, but mainly for all the mashed potatoes she will consume this week.
Cover photo captured by Drew Colins.